This week we want to talk about self-care. Whatever your hair care routine or regiment, we believe it should be part of a self-care moment that you take to treat yourself. Getting out of the day-to-day responsibilities and directing positive energy to yourself might just be what you need. Here are ways you can pamper yourself and your hair this week.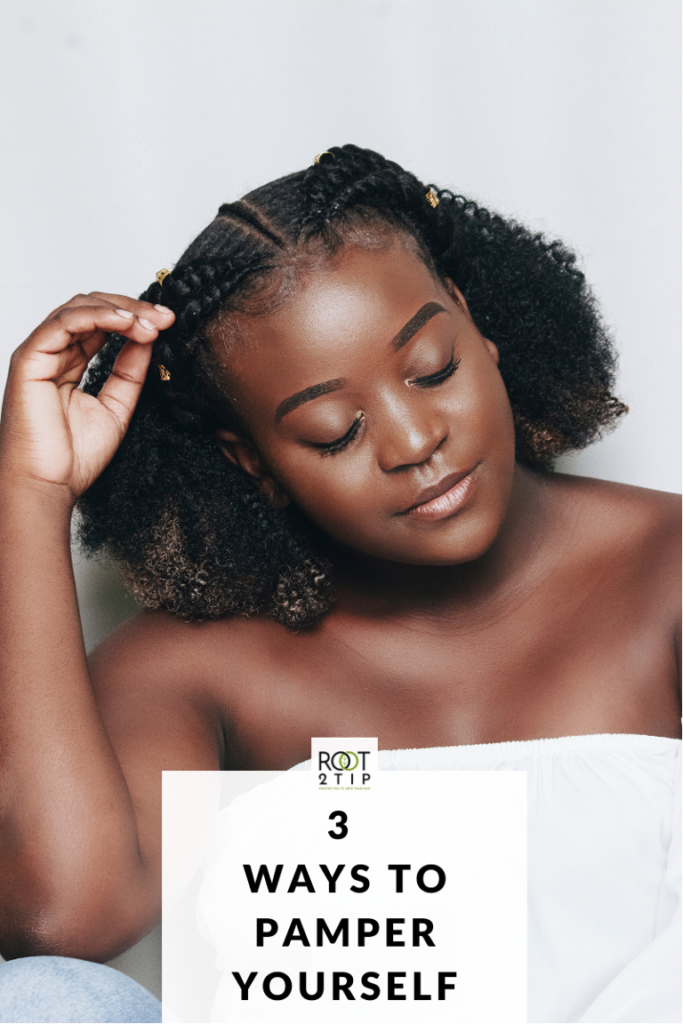 How To Pamper Yourself: Scalp massage
When we think about our hair care, we sometimes forget the scalp. It is responsible for the condition and in some cases, the rate at which our hair grows.
Making sure the scalp is in the best condition possible will help your hair thrive. Massaging your scalp, will activate blood circulation and stimulate hair growth.
Using a scalp massaging tool that you can use in the shower can turn that wash day into a spa experience, as the circular movements are very soothing.
You can do a hot oil treatment prior to the scalp massage. Using essential oils like rosemary, tea tree or peppermint can help stimulate the follicles and leave your scalp feeling refreshed. Please note however, that you should avoid rosemary oil if you are pregnant. We recommend a scalp massage once a month, this allows you to schedule the perfect moment and gives you time to enjoy your scalp being refreshed and ready to grow your beautiful coils and curls.
You can use our Grow It Long Scalp Serum or Root Energizer Oil to perform your scalp massage.
Deep Condition
We all know deep conditioning is a very important part of black hair care. Afro-textured hair is naturally more on the dryer side; deep conditioning is vital in order to keep the balance. The natural sebum (natural oil) from the scalp runs down the hair shaft and coats the hair in order to keep it moisturised.
However, because of the curls and coils, the sebum cannot run down the hair freely. This leaves the scalp and roots somewhat moisturised and the lengths and ends dry. Deep conditioning gives the hair a moisture boost, as it allows the strands to absorb the needed moisture.
Our Triple Protein Strengthening Mask is a great deep conditioner, that delves deep into your hair. 
Steaming The Hair
Turn your deep conditioning session in to a pampering moment by using mild heat. Apply your deep conditioner and cover your hair with a plastic cap. Your natural body heat in the scalp will help open the cuticles. You can take it a step further by placing a hot towel on your head, giving your hair extra mild heat, which will help with product absorption. If you have a hooded dryer, you can also sit under it for 30 minutes to an hour on medium heat.
This is especially beneficial for low porosity hair. Applying mild heat will help those tight cuticles loosen up. One of the best ways to help low porosity hair, absorb the moisture is by using a steamer. The steam is very powerful, and can be directly applied to the hair, using hair or even face steamers. Apply the steam to the hair before and after applying the product to open the cuticles. The steam will completely change the way your hair reacts and absorbs the product. This is a great way to get the most out of your hair care session.
We all deal with daily responsibilities, jobs, chores, and life in general. Taking time to pamper yourself is important to keep the balance. Haircare should not just be a task on the list, enjoy it and be a little selfish, you deserve it.  We hope this list of how to pamper yourself helps! 
Quick Protective Hairstyles For Kids: