The warm days are finally here and summer is just around the corner. If your little one has been wearing his or her hair tucked away all winter, this is the time to release those kinks and curls. Whether you like loose hairstyles or protective styles, we believe one of those hairstyles can be your child's opportunity to wear something new. Here are 7 beautiful kids summer hairstyles for children.
1. Loose Twists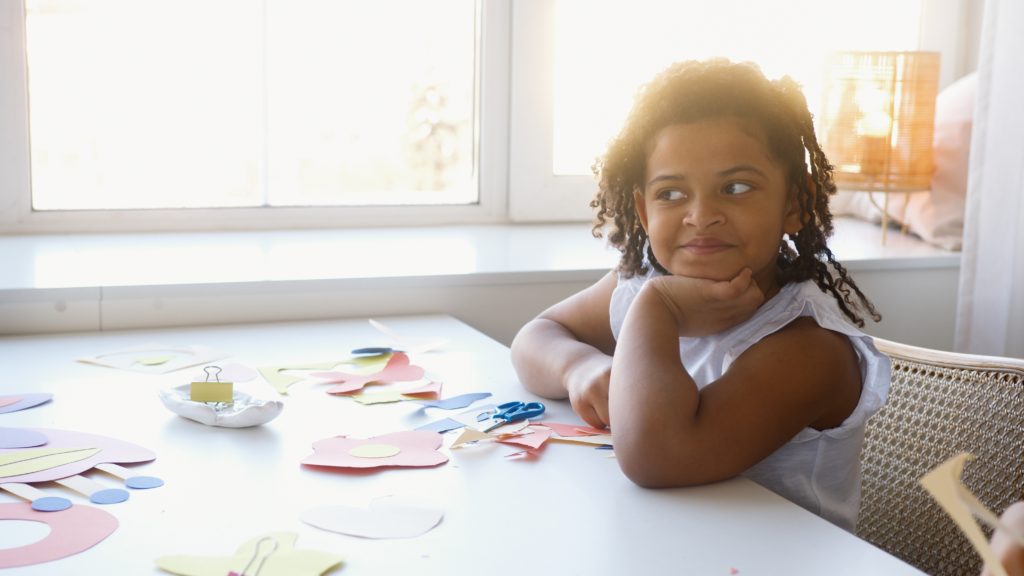 This is a simple hairstyle that your little one can wear let down, in a ponytail or half-up, half-down. Just simply twist medium sections of the hair into twists. You can use our Sunlight Curl Crème as a moisturising styler. To secure bthe twists even more add on top of the Sunlight curl creme, use one of our butters either the Twurly butter or the Dream cream, which is not a butter but mega thick and will hold the twists really well.
Sometimes tucking the hair out of the way in a simple puffy bun is a great idea. Using a scrunchy without the metal parts is the best way to protect the hair from breakage.
We recommend not tying the hair too tightly to avoid stress on the scalp and edges.
3. Bantu Knots and Twist out
This is a nice hairstyle when you want to switch up the twists. The Bantu knots and small cornrows take this simple hairstyle to the next level.
If you love Bantu knots and twist-outs, you will love this beautiful hairstyle.
4. Banding Hairstyles
If you are looking for a super easy hairstyle that you can use to stretch the hair without heat at the same time then banding hairstyles are your perfect choice.
Use our Honey Rain Juice to moisturise the hair and detangle thoroughly before using elastics to band the hair. Attach the first elastic at the base as you would a ponytail then you drape the rest of the elastic down the hair.
You can use one elastic when your child's hair is on the shorter side or multiple ones when the hair is longer.  
5. Bubble ponytails Summer Hairstyles
This hairstyle looks a little complicated but it actually is not. Separate the hair into medium sections. Cover the elastics with oil so they will be easier to install and especially easier to take down.
Attach the first elastic at the base, then attach another elastic every 1 ½ inch down.
We have an awesome tutorial to show you everything from start to finish. How to prep the hair and section it. How to install the elastics and style it using fun accessories. Your little one will love this hairstyle. At the end of the video there is even a short hair version.
6. Twist outs & Braid out
Summer is the perfect time to let hair loose and give protective styles a little break.
Twist-outs and Braid outs are the perfect way of giving your child's curls shape and form without letting the hair tangle upon itself.
Setting the twists and braids on wet hair and allowing the hair to dry completely, permits the hair to remain in the desired form without tangling.
You can easily make it into a half up and half down style if your little one doesn't like to have their hair in their face.
7. Cornrows Summer Hairstyles
Last but not least on our list are cornrows and cornrow up-dos.
These styles go in super quick and are a great protective style that does not need to stay in for weeks on end. You can switch it up every two weeks and try something different. Whether you like simple straight backs or intricate styles with small and bigger cornrows, it is a hairstyle that never gets old.
8. Afro Puff
This classic style is so versatile. It can be worn in one puff or parted into two sections, diagonally, horizontally, or vertically, like the cutie in the above photo. Our
Honey Rain Juice i
s a great tool to aid you in the detangling process. We also have a version tailored specifically for
curly mixed race hair
. Just a few sprays and it does the work for you! 
9. Afro
Summer is the best and most acceptable time to fully leave afro/curly hair out. This is the most natural you can get! It looks cute and innocent on kids especially. You could even decorate it with a headband or a cute clip.
We hope this list of kids summer hairstyles is helpful and would love to see you try them on your little one. Our
Root2Tip natural products
can help you achieve these styles.